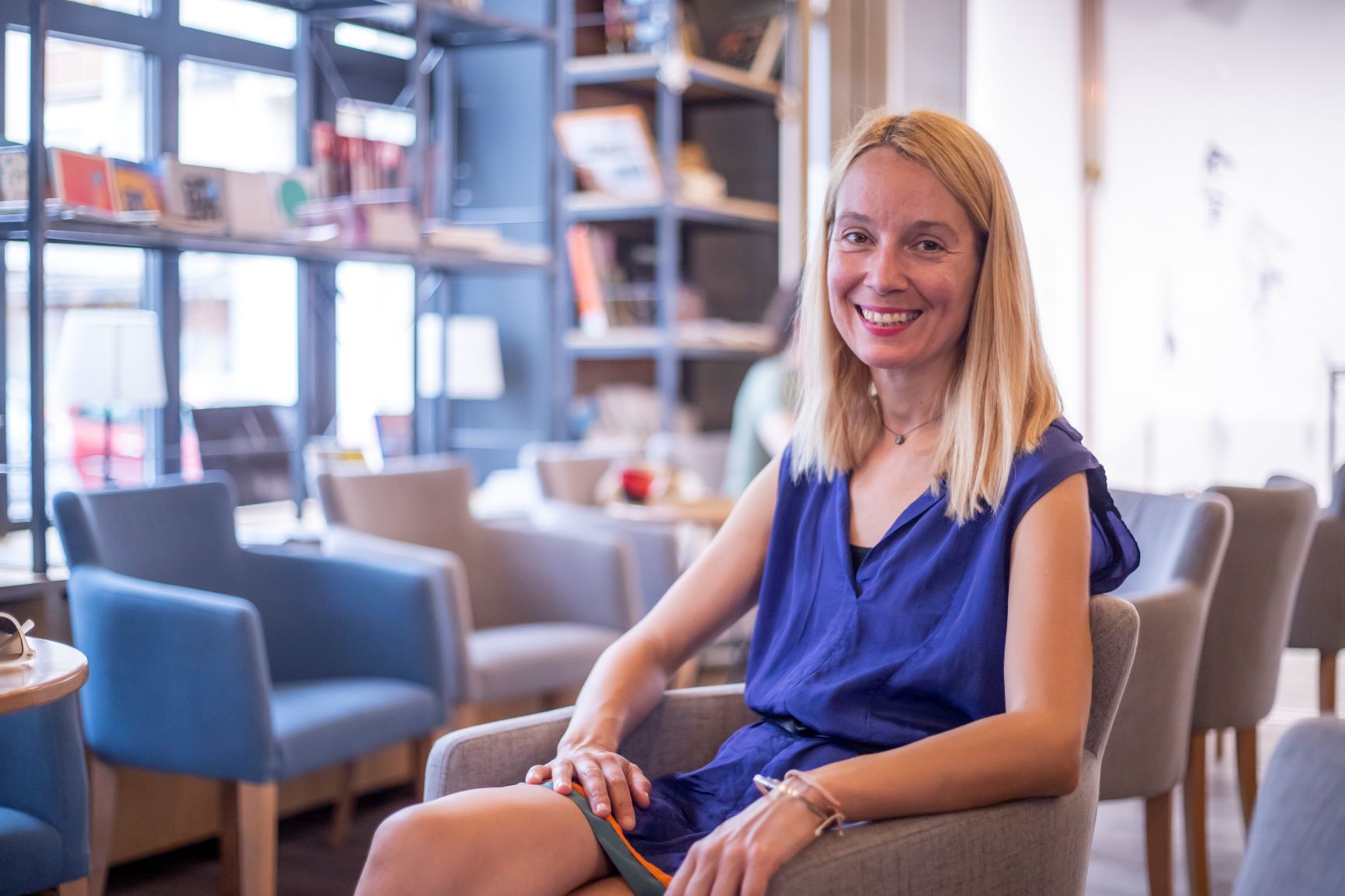 'For the first forty minutes, we are slowly slipping into relaxing, hypnotic state, carried away by words and thoughts about fears, as well as new possibilities before the apocalypse' – this is how Ana Tasić, a theatre critic, starts her new text about the 'As If the End Were Not Quite Near' play by the author Maja Pelević, directed by Nikola Zavišić, which was performed in the Svilara Cultural Station, within the 66th Sterijino Pozorje.
The interactive theatre play, which 'stands out' from standard theatre frameworks we are used to, gathers only five viewers who start playing their roles with their clothes on. There are no actors, we can only hear their voices.
The play by the Bitef theatre received audience award for the best theatre play at this year's Sterijino Pozorje. The author Maja Pelević says that theatre transcends classical drama frameworks for some time and enters multimedia and interaction fields.
'What is new, when it comes to theatre in Serbia, is the use of VR technology. It seems that it can surprise audience the most and really take them to some different, maybe better world. The thing that makes it a play, but not a happening, a performance or a video, is clearly defined framework and limited duration. It is not envisioned to get 'in and out' of it, but it has its beginning, middle and end in a way. In that manner, I think that it is rather an influence of visual art on theatre than vice versa,' stressed Maja Pelević.
The author finished the Faculty of Dramatic Arts in Belgrade, while she obtained her PhD degree at the Interdisciplinary Studies at the University of Arts in Belgrade. She is a winner of the 'Borislav Mihajlović Mihiz' award for drama and 'Slobodan Selenić' award for the best graduate work. She was also a winner at the Sterijino Pozorje call for original drama text 'Maybe We Are Mickey Mouse', the Sterija's award for the best drama text 'Orange Peel Skin' and award at the 'UNIMA' call for the best original text 'The Invisible' for puppet theatre.
She implemented the 'They Live – In Search of Text Zero' project with Milan Marković in 2012. She wrote, directed and performed the 'Consequences' drama in Bitef theatre, while she directed 'My Prizes' by Thomas Bernhard and her text 'Bollywood' in the National Theatre in Belgrade. She created the 'Freedom: the Most Expensive Capitalist Word' play with Olga Dimitrijević. She is the member of the 'New Drama' project, while she is famous for dramas: ESCape, In Neutral Gear, Be a Lady for a Day, Belgrade – Berlin, Orange Peel Skin, I or Somebody Else, Jumpgirl, Maybe We Are Mickey Mouse, Strange Loves, Consequences, A Fully Abridged History of Serbia (with Slobodan Obradović) and the Invisible. Her new play 'Tested on People' directed by Bojan Đorđev, which was published right before the pandemic, is being performed in the Atelje 212.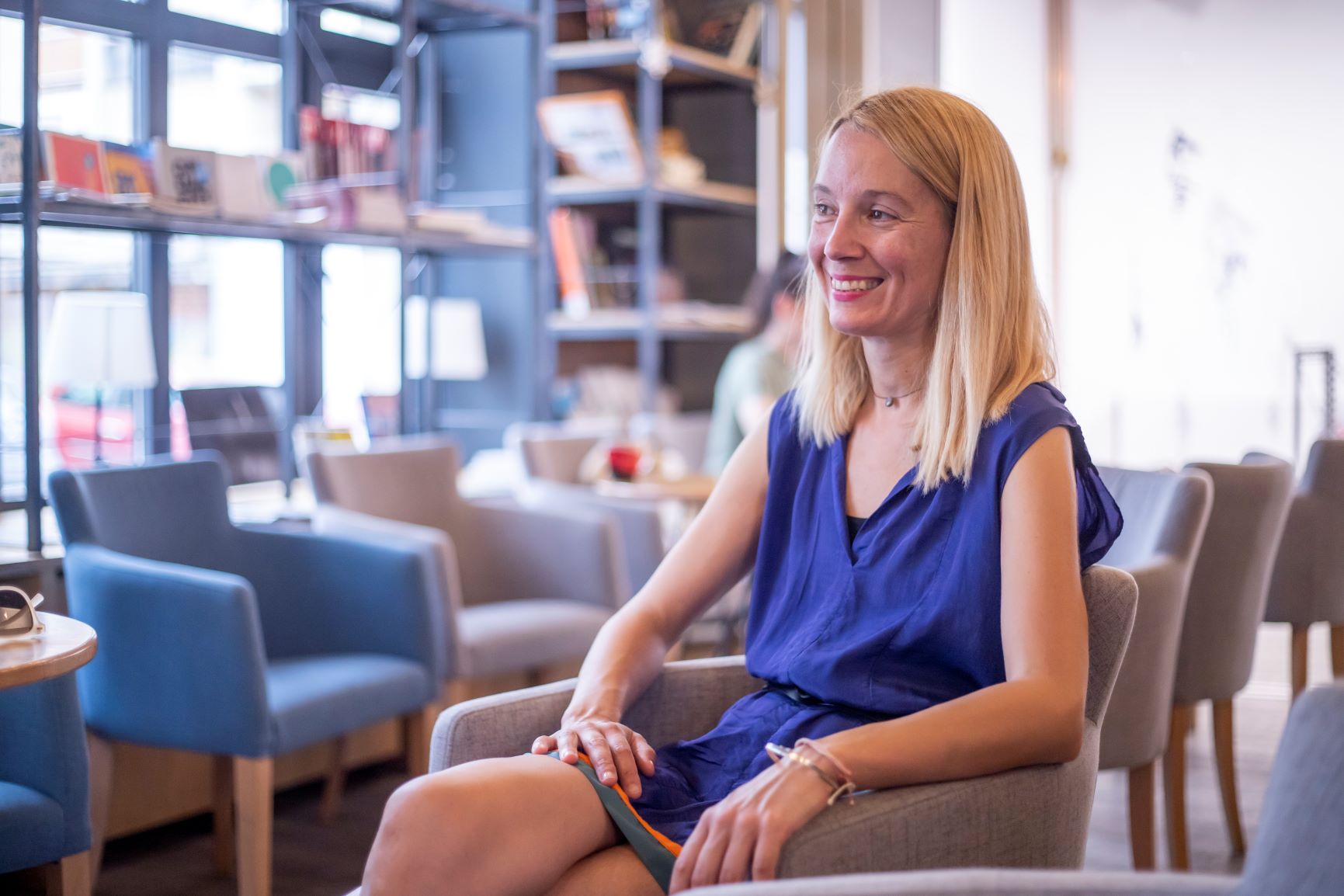 Audience enjoys the classical theatre because people feel relaxed while watching the play, and this is an interactive play that makes the viewer a participant, taking them out of the typical theatre behaviour. How do viewers, who are the creators at the same time, react?
The classical play is not necessary in order for audience to relax. It is possible to 'relax' audience with an interactive play, although I think that every play is interactive in a way, even though it does not include direct interaction. There are, of course, different ways to include audience or make them participate in a play. When it comes to our play, we did not want to make it aggressive in any way, neither expect some
tasks from audience nor make it an obligation. We actually wanted to make audience as relaxed as possible, let them know that they do not have to participate, that they can lay down, listen, not listen, watch, not watch, think, not think, be awake or fall asleep. In that sense, we gave audience complete freedom to experience the play as they wanted without strict guidelines or boundaries. When it comes to behaviour in the space, we witnessed different situations. Of course, it depends on if people know each other. There were groups of people who danced, participated, swam, while other were laying down, listening, without excessive movements. Everything depends on the people in the space. Therefore, every play is different depending on participants themselves.
Are you satisfied with the outcome of the play, which was created in special circumstances, with group of people limited to 5?
Limitation to 5 people is being determined by different circumstances – pandemic, size of the space and impossibility to perform the play for great number of people since we use VR technology that has its limitations. In the end, it turned out better because it was organised for few people because we thought that this type of play had to be performed in an intimate atmosphere. We wanted to educate a small temporary community in the limited space for only an hour. It is up to audience to say whether we achieved it, but according to impressions so far, I think that we at least partially did.
Did the imposed pattern result in something you have not expected?
Actually, we could not expect anything because we did something like this for the first time. We were aware that many things could go wrong, especially in a technical sense. I think that it was the biggest challenge since we faced with a quite new technology. Moreover, we did not know how the audience would react to VR glasses, video, sound, whether they would like it, or perhaps they would feel sick. That was the reason we had the 'test' audience conveying their impression and based on that we modified some things. It is nothing new when it comes to the audience participation. Almost every visit to the museum of contemporary arts looks like that. I am still sure that visual art moves with the times and that theatre should follow the example.
Will the machine-viewer relation be the creator of play in the future?
It will be interesting to see what will happen to theatre as a form in the following decades, while technology is slowly swallowing reality. Maybe it will find its way to use technology for something noble, to steal it from mean corporations, or it will ignore it and continue to function based on the old 'face-to-face' principle. When the pandemic started and life shifted to internet, I was convinced that it was the end of theatre as such and that we would never be back to theatre halls the same way. Maybe it has been my hidden wish since for some time, I hardly feel the excitement in a 'classical theatre', I have to admit. But here we are, things got back to normal. The so-called new normality have not last for so long, or maybe it seems like that. Maybe the change is happening at the moment, but we are not aware of it. It would make sense. Artificial intelligence works while we are sleeping and who knows what its plans for theatre are, but that just have not come up yet. If virtual museums exist, why would not we have virtual theatre in the future? But those paintings are still hanging on the walls, and some people are still waiting in line to see them.
If we make a viewer-creator role an imperative of a theatre, what would be the position of other theatre artists?
There is no such imperative and I do not believe that theatre will completely turn into an experimental form. Audience hardly changes its habits. They would rather wear expensive garment and go to some place where nothing is expected from them but to watch right from the dark and smile or express surprise from time to time. Therefore, all theatre artists will have a lot to deal with for quite some time.
It is all about everything that is the opposite of theatre, and that is the feeling of loneliness – How did you spend time during the period of lockdown and how loneliness affected you? How do you perceive it?
I really liked the loneliness. I liked the fact that the world stopped for a moment and that I was aware that other people as well, liked it or not, had to be alone and did not do anything at all or work a bit. People who do not do anything do not have the time to pollute the planet. There is a sentence in the text of our play 'The world has been purified and plants started growing on intact places'. When nothing has happened in the world, when the economy stopped, when planes stopped flying – sky, air and seas were cleaner than ever.
In what circumstances do you work, create, and write in general? Does the peace in your home make you the most productive? What is your inspiration place?
During winter, I live by the sea, in Bečići. I enjoy reading, creating, and writing by the sea the most, while listening to the sound of lapping waves and wind. However, if I did not spend the rest of the year in the city, I would hardly have the topic to write about. So that is an ideal combination in a way.
You are the winner of numerous awards, among others, one of the most prestigious – the Sterija's award for best drama text 'Orange Peel Skin'. Your text 'I or Somebody Else', directed by Kokan Mladenović, was performed in the Serbian National Theatre in 2006. Your project 'As If the End Were Not Quite Near' brought you back to Novi Sad. How do you perceive Novi Sad? What feelings do you associate with Novi Sad?
Honestly, I have a problem with plains. I like mountains, hills, and highlands and when I spend some time in any kind of plain, I become anxious, and I am starting to freak out. Some people suffer from meteoropathy, and I suffer from geography, and I cannot get rid of it. So, whenever I spent some time in Novi Sad, I had mild panic attacks. On the other hand, people I like live there, but I would rather meet them in Fruška Gora, for example.
Next year, Novi Sad will bear the prestigious title of the European Capital of Culture, how do you perceive it? What can the title bring to our city?
It can bring a lot of European money for poor artists, and it can bring corruption, scam and nepotism. Being the capital of culture of the 'Fortress of Europe' that has shown us how it steeped into xenophobia and nationalism with its behaviour before and during the pandemic, and how it is not ready for solidarity, is not too great an honour. In times when people are still drowning in seas, live in poor conditions in refugee camps, when healthcare system in many poor countries in Europe is falling apart, and when we are on the threshold of a new big economic crisis and disaster at the same time, there is not much to look forward to. It would be better if Novi Sad used its title to speak about these topics through the work of artists, than to pretend as if nothing is happening.
Photo: Uroš Dožić