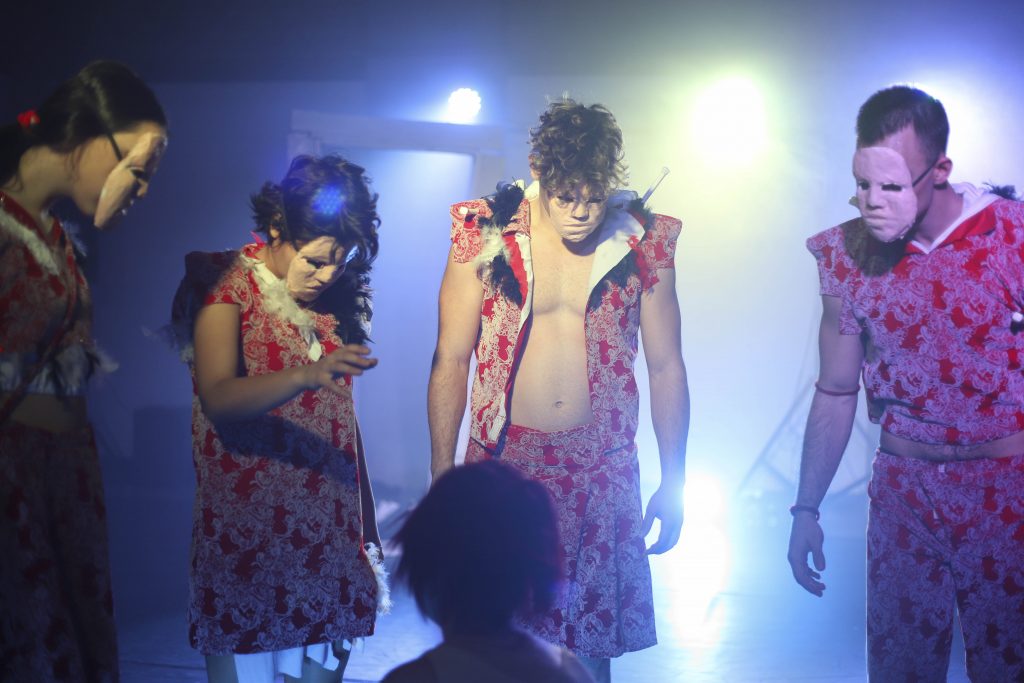 The 'Unraveling – Live Installation' premiered in the Svilara Cultural Station on Friday, 4 December, while the rerun is scheduled for 18 December.
The whole project is Suzana Rudić's idea. Suzana is a young poet and is currently studying Fine Arts (Sculpting). Saša Krga, a choreographer and costume designer, transformed Suzana's first student template titled 'Habitat' (Sr. Stanište) into a live installation named 'Unraveling' (Sr. Rašivanje).
The author uses her own poem 'Cities' (Sr. Gradovi) as a starting point. She asks the question of who we are, and makes the listener question their own essence and reject what's unnecessary. The scenography was inspired by the Kabuki Theatre and oriental theater. Saša wanted to explore the possibility of creating new audiences, connecting distant parts of the world and intertwining two faraway cultures such as Serbian and Japanese.
Tatjana Valjević, a young actress, depicts the young author of the poem Cities – a product of her own, personal life story and nostalgia for her hometown Srem, where she was a carefree child without any knowledge of the pain her people went through – migrations and prosecution.
One of the symbols appearing in the play are the door and padlock whose keyhole takes shape of a chess piece, since life and the decisions we make in life are like chess – unpredictable games that require wisdom and various skills. The door represents the portal of spiritual rebirth and letting go of all the bad and negative emotions that have been accumulating in us.
Suzana chose five characters to represent her expectations, scattered dreams, reality and another version of herself, someone who could become her own backbone and support. The whole story is based on waking up from a dream and going from one reality to another, where she matures and discovers herself.
The idea to connect and intertwine experiences of the young and promising energy came from Ružica Bojović, founder of the Teatrilo collective, where she works with children and young people in culture and art.
Idea and libretto: Suzana Rudić
Choreography, costumes and script director: Saša Krga
Production: Ružica Bojović
Composition: Dimitrije Beljanski
Music production: Veljko Cvetić
Lighting design: Zdenko Medeveđ
Actors and actresses: Tatjana Valjevac, Jelena Vasić, Sonja Stekić, Peđa Vojvodić and Milan Radovanović
Hair and makeup: Petar Kostić Porucheri
Scenography: Suzana Rudić
Photography: Katarina Brett
Photo: Uroš Dožić