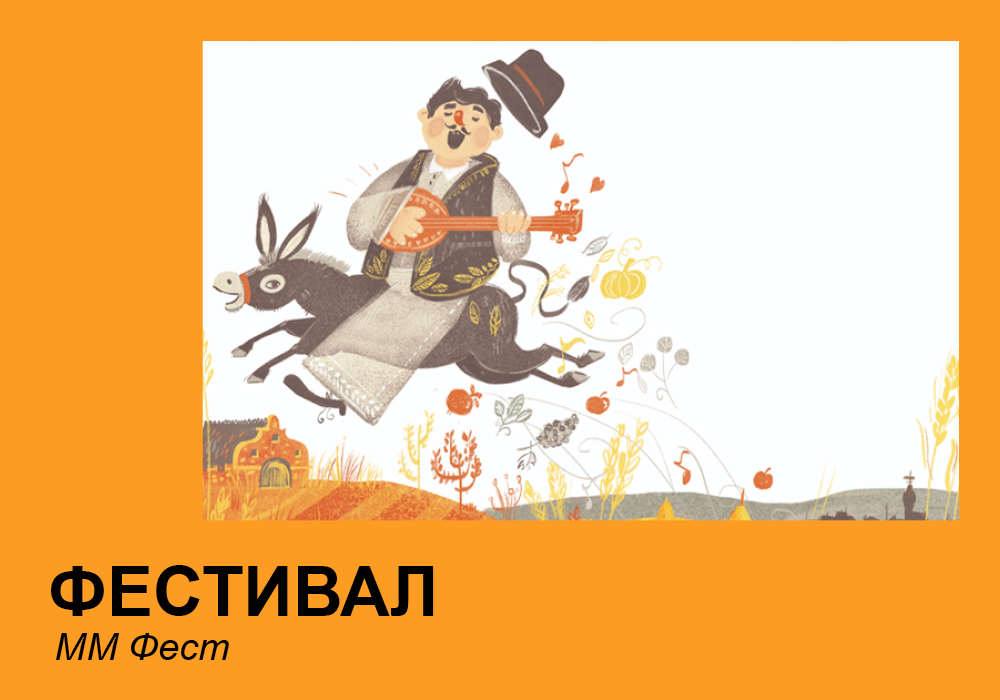 Marica Kicušić is one of the most successful young illustrators in our country. She takes us back to childhood with her drawings, leading through the wonderful world of fairy tales and imagination. Her work is a combination of applied and fine art – animation, illustration of children's books, digital and traditional graphics, digital collage, poster design, murals, drawings. As she says, the connection between different fields of artistic expression is inseparable for her and she has always been ready to try various, new techniques. The exhibition of illustrations by Marica Kicušić will be opened in the Svilara Cultural Station, today, 20 November, at 6 p.m., within the Festival of Children's and Youth Animated Film 'MM Fest'. It was an opportunity to talk to Marica about her work, inspiration, but also how she sees Novi Sad as the European Capital of Culture.
The key word in your work is travel. Where did illustration take you? What experience did you gain on those journeys and did you share it with the audience through your work?
It's not just about the physical journeys that my drawing has taken me to, it has opened up much wider and deeper spaces within myself and these inner and outer wanderings and questions are closely related. I think it is important to enrich the inner world with physical travel. It is inspiring for me to travel in nature, but also to observe people's faces in crowded foreign cities, trying to discern an unknown language, learn about some other people's customs and culture, which is basically very close and familiar to us, and again a bit far from my daily routine. That is sometimes enough for me to inspire me to work. That is why I was inspired to notice these almost invisible differences through travelogues from my travels in Europe, but travelogues and stories carried by an abandoned house in a nearby forest next to my home are equally valuable to me.
When did you first become interested in this type of art, who were your role models and what did they teach you?
I started drawing very early, it has always been a part of me, I observed all children's books with care and I always wanted to add something of my own to those drawings, to connect my world to theirs, many books from that early age remained colourful. I don't think I had role models later, when I started to slowly focus on illustration and animation, but I found inspiration and lessons in every area of artistic expression. I looked at drawings as well as graphics, sculptures, dance, film, comic, etc. In each part I found some detail from which I would learn something. Even outside the artistic life, in reality you learn a lot. But the ability to observe and analyse must be learned as well, and it was passed on to me by my numerous professors from the faculty and from earlier times.
You take adults back to some carefree, childish period. How important is it to keep that child in ourselves and did you keep it?
I didn't force myself to save it, it just stayed there. I'm not sure I know the recipe how to preserve it, I think it's that we are born that way. I have always had that childish curiosity in me, it has managed to maintain to this day, probably thanks to my work. It is important to me that it is there, because it helps me a lot to occasionally come back to myself, to recover from the hustle and bustle of everyday life, to regenerate.
Who is the more demanding audience, children or adults?
I don't feel that neither adults nor children are a demanding audience, and maybe I don't see them as an audience, but as accomplices in my stories, who will probably appear in illustrations and who help me create worlds with their appearances, statements, gestures. I am always open to suggestions and critiques of my works, both from adults and children, although I think I react a little stronger to children's comments, I like their reaction and I want to hear it, because those books talk to them.
Some of your works were rated as timeless, i.e., they look like they were created 50 years ago, but also as they were finished yesterday. Are you free from the time constraints when you work, can an artist displace himself out of the present, or does that attribute of the timeless actually just happen by itself?
I never thought about the time to which my works belong, I just work by feeling, as the story of the book leads me, I try to adapt my style to it. I don't burden myself much with time, it does its job, and I do my job, so during work I almost completely disconnect from everyday life, time and all other flows.
You illustrated a map of the mountain peaks of Serbia and several personal travelogues, and you were also awarded by ULUPUDS for children's illustration in the 'Journey through Serbia"' book. How can we educate ourselves through art, in perhaps even more interesting way? What knowledge did you acquire during the creation of these works?
I think through drawing, that's why the majority of my travelogues, books of illustrated recipes, drawn maps, guides, manuals, and other personal projects were created, that's how I explain things to myself and that's how I remember them. I learned a lot through working on books, a lot from those books inspired me to study some areas further, to expand my knowledge. For me as an illustrator it is very educational, I remember things both useful and unnecessary. I certainly think that we can educate ourselves faster, easier and in an interesting way through pictures, and that should be used.
A few years ago, Serbia was the European champion due to the participation of the authors in the youngest generation of illustrators. Unfortunately, this valuable information is little known, so how much support and space do our illustrators have?
I cannot speak on behalf of colleagues because I am quite out of all circles, currently due to the nature of work, my own nature and travels, but as an illustrator I manage, I break through, I can say that I found my place in this world after ten years of work. Of course, the internet has opened up opportunities for us to find support and space on our own.
Novi Sad is preparing for the title of the European Capital of Culture, which, due to the corona virus pandemic, it will hold in 2022. How do you see that title, Novi Sad as the holder of the same, and how significant can it be, in your opinion, for the rest of Serbia?
I think that dynamic Novi Sad will successfully hold that title and make the most of its power. I haven't visited Novi Sad often and I don't know the details of cultural events, but I think it will have enough ideas and strength to use this opportunity and show itself in full creative power. Although it is difficult for me to imagine normal cultural life and dynamics from at this point, I hope that, for example, this very opportunity will manage to return things to normal and improve it.